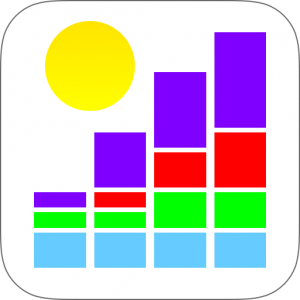 Your most valuable resource is the time and attention you bring to each day. Daypractice is a tool that helps you focus on activities, and track the time you spend on them. Having a clear understanding of how much time you spend can help you set personal goals and priorities, and ultimately find a happier, more productive balance.
Daypractice Features:
Activities can be anything: work projects, habits, exercise, time spent answering email. Daypractice gives you some ideas to get started, but what you do is up to you.
Track up to three activities for free. Upgrade to Daypractice Premium to track any number of activities.
Activities can track time or count. For example, you could keep track of number of cups of coffee, as well as how many hours you work.
Assign a different color to each activity.
Graph activities by day, week, month or year.
Built-in focus timer: Use the activity timer to track short intervals (10 to 15 minutes) of focused effort. The timer is usually set to repeat, so that after each interval, you can keep going and stay "in the zone", or stop and take a break.
Easy manual entry of time or count on the main screen.
Set visual goals for each day of the week.
Keep task lists for different activities, to waste less time remembering what to do next.
Fast entry of tasks: go to an activity, tap in the task field and start typing, then hit Done.
The Tasks tab shows tasks for all of your activities, or for a selected category of activities.
Filter activities by Categories that you assign.
Stores your data in iCloud.
Syncs between your iOS devices.
No third-party service to sign up for. Your data is your own.
Daypractice is designed to help you get things done. But also, it's about knowing when you've done enough, so that you can better enjoy the time when you're not working.